Catholic Digital Studio has been given permission from Rick Salbato of Unity Publishing to re-produce and re-cut, for the Internet, this documentary series about a church-approved Marian apparition and a Syrian mystic named Myrna Nazzour. The video has an Imprimatur. The messages have a Nihil Obstat.
Myrna experiences visions of both the Blessed Virgin Mary and Jesus. In many of her ecstasies she's experienced the stigmata, caught on film. She has suffered Christ's wounds in her hands, feet and side, and the crown of thorns. She's felt the scourging of Our Lord. Her skin exudes 100% pure Olive Oil with healing properties. It has secreted from her face, hands, ears, feet, neck, stomach and eyes during her ecstasies. This phenomena is unexplainable to scientists and psychologists. The later segments of the film contain their testimonials.
The Icon of Soufanieh also exudes the same oil, which has healed and blessed a vast multitude.
There is a section for Testimonials and Related Topics.
Myrna is Catholic. Her husband is Orthodox. Through her husband, she falls under the ecclesiastical jurisdiction of Orthodoxy.
Myrna's story is pertinent to the unity of all Christians. God desires one flock, one visible shepherd and one form of Eucharistic worship.
This film is about love, prayer and forgiveness.
Perhaps Unity should start with the Eucharist. The Holy Father, Pope Benedict XVI, writes in his new encyclical, Sacramentum Caritatis, these words, "An emphasis on this eucharistic basis of ecclesial communion can also contribute greatly to the ecumenical dialogue with the Churches and Ecclesial Communities which are not in full communion with the See of Peter. The Eucharist objectively creates a powerful bond of unity between the Catholic Church and the Orthodox Churches, which have preserved the authentic and integral nature of the eucharistic mystery."
It is our hope that unity will happen in the near-future. We petition the Bishops and Patriachs to work for this. It is God's desire.
May you enjoy this video series.
God Bless!
--Mary Ann Button, Web Mistress.
---
The Miracle of Damascus, Parts 1 - 31
---
The Miracle of Damascus, Parts 1 - 10
NOTE: If you only see white boxes, then You Tube is down for regularly scheduled maintenance. Please try the alternate link, if provided, or check back later. Thank you.

Part 1

Part 2

Part 3

Part 4

Part 5

Part 6

Part 7

Part 8

Part 9

Part 10
** The Miracle of Damascus, Parts 11 - 20 **
---
Viewer Testimonials and Related Topics
A You Tube viewer made a video tribute to Myrna Nazzour:
Syrian Christian Myrna Nazzour
---
A You Tube viewer named "kalamation" put together these beautiful Byzantine Chants. The Byzantine Catholics are part of the Eastern Rite Catholic Church. Also contained is the theme of Unity.
---
A filmmaker on You Tube sent me this email in April 2007:
"... Myrna's story really got its hooks into me ...
What happened to Myrna was amazing, and I've always been fascinated by stories about ordinary people faced with the inexplicable. Hers is a very human story, about a humble, ordinary family faced with something beyond their understanding. (Sort of like Joseph and Mary two thousand years earlier). What happened to Myrna was both a great gift and an enormous burden. But she inspired hope and faith in millions of people, for whom she became a living symbol of the miraculous.
It's a story of great faith, that has a lot to say about humanity and our need to believe. Christianity teaches that we must accept by faith, and since most of us believe that there is a God, the battle's already half won. Yet we are also limited by our faculties. Our total experience of life comes through the filter of our senses. We tend to trust that which we can see, hear, and touch. So, when the faithful are confronted with what appears to be physical evidence of the existence of the divine, the fervor of that sense of validation -- combined with the feeling of almost being able to "touch" a little part of God -- can produce some of the near-riots that occurred during Myrna's public appearances.
For me, one of the most unforgettable images in the documentary was that of a thicket of anxious hands, all reaching out to touch a jostled and weary Myrna, who patiently endures it all.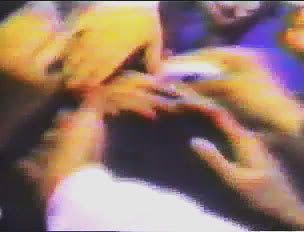 There's something very powerful about Myrna's story, that transcends other accounts I've seen or read about religious phenomena. I tend to be somewhat skeptical about such things, yet as I watched the videos, I was struck by Myrna's deportment. I didn't see a neurotic, hysterical woman who's trying to get attention. What I saw was a somewhat traumatized-looking housewife who seemed to be more-or-less "putting up with it" as best she could, for the sake of her enormous faith. And that gives her far greater credibility than most people who claim to be mystics.
Anyway, thanks for posting those videos..."
---
In March 2007, A viewer from the Philippines informed me that an image of the face of Christ appears in Part 10 on frame 5:06 to 5:07. The image of Christ's face is to the right of the Virgin, superimposing the image of the Christ Child. His face is tilted 45 degrees clockwise. Half of His Face is illuminated with the light source approaching from the right. Here are some images I captured. The image is not a reflection off the glass, but is composed of the miraculous oil flowing out between the icon and the glass frame above.
| | | |
| --- | --- | --- |
| | | |
| Part 10, 5:06 Original | Christ Image Isolated & Enhanced | Part 10, 5:06 Photoshop Enhanced |